June 21, 2023
Redeem Vouchers Online with Aspenware Commerce
Offering special offers and promotions are key marketing strategies for ski resorts. With Aspenware Commerce we have multiple ways to facilitate the redemption of these marketing offers. Our voucher module is one of these ways. Vouchers can enable discounts on certain products or give certain guests access to specially fenced products. For ski resorts, there are many ways to use vouchers as part of your business:
Passholder and Staff Perks: Offer free or reduced lift tickets or discounts on other products for your passholders and staff to use or share with friends and family. These build loyalty with this base of customers, encourage pass renewal, and expose new guest visits to your resort.

Credit: As an alternative to refunds, issue vouchers that can be used like a store credit. This keeps the dollars onsite and encourages repeat visits.

Specials or Comps: Encourage new groups of guests to visit through the use of vouchers. Offer discounted tickets to groups of locals who meet certain criteria or complimentary tickets for VIPs.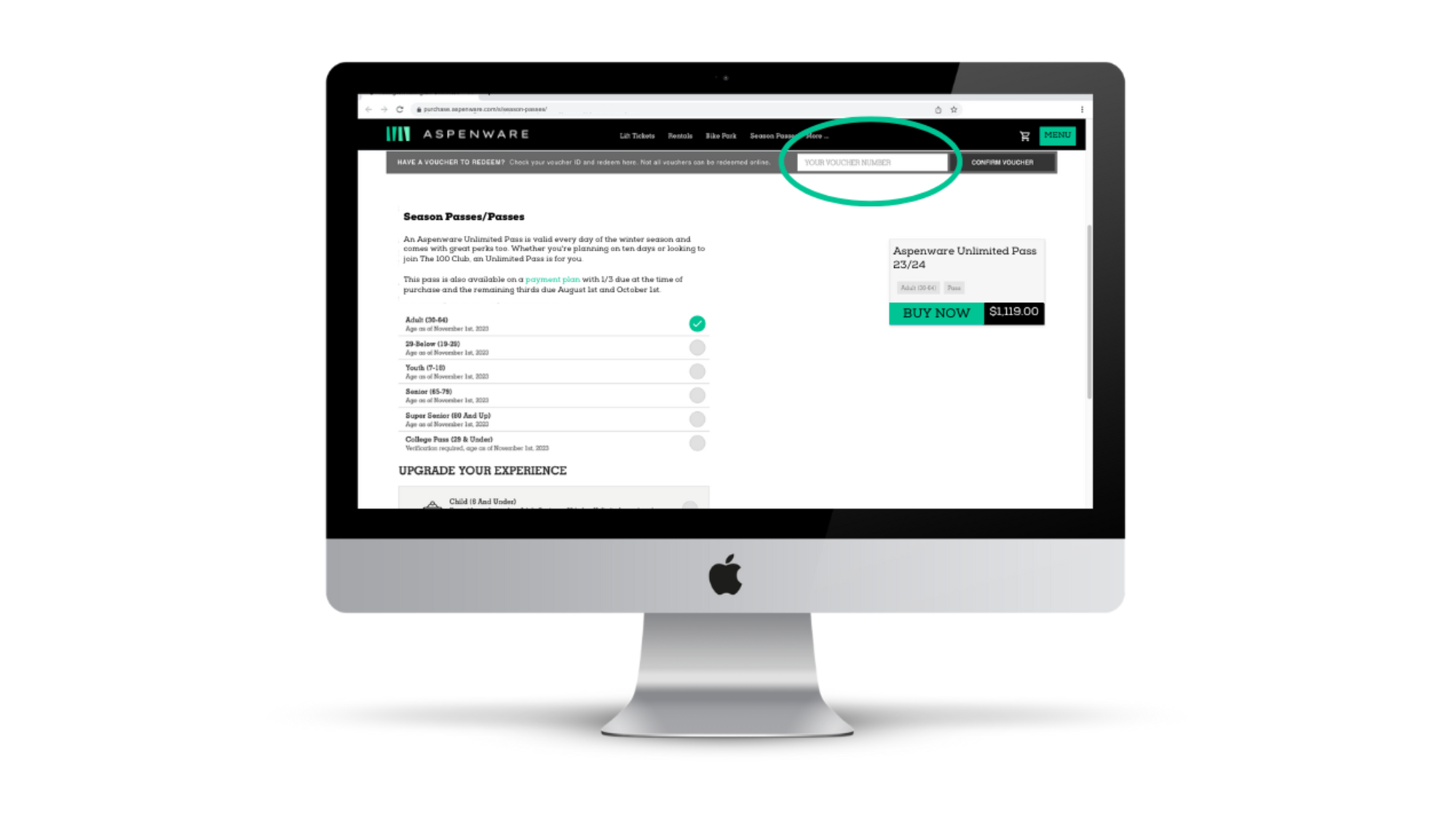 Ease of Online Redemption
To ensure that guests are able to redeem their vouchers, it's important to have a clear and straightforward redemption process in place. Guests don't want to stand in line to redeem a voucher, they need online redemption.
When it comes to online redemption of vouchers for a ski resort, ease of use is essential. The online redemption process should be simple and user-friendly. Guests should be able to easily navigate the website and redeem their vouchers.
Timely response is also crucial for guest satisfaction. The online redemption process should provide instant responses to guests, including confirmation of voucher redemption and immediate access to any entitlements, including QR codes for lift tickets or other products.
Overall, providing a seamless and secure online redemption process for guests is essential for ensuring guest satisfaction and increasing revenue.
Aspenware's Unique Features for Voucher Redemption
Aspenware's voucher redemption module offers unique features that set it apart and truly honor the needs of both resort business operations and guests. We offer an easy-to-use solution that is flexible and responsive. Our voucher redemption module features include:
Options for customization and flexibility

Integration with point-of-sale

Mobile-friendly design

Outstanding guest experience
Customization
Our customizable features include the ability to tailor the redemption process to fit specific needs and requirements of your resorts and incorporate your branding. Resorts have creatively used our voucher redemption module for anything from enabling self-service for lesson packages to discounted friends and family tickets to mid-week lift ticket specials. The possibilities are endless.
Integration with point-of-sale
Integration with the resort point-of-sale system is crucial for a successful voucher campaign. It must be seamless to manage the validity of vouchers, control access to those voucher IDs, and offer reporting on the revenue generated from voucher use. Our voucher redemption module offers this deep integration and makes voucher redemption seamless from the business side, maintaining synchronization with the point-of-sale to control validity dates, numbers of vouchers, and access to specific voucher IDs. Voucher cataloging is controlled in one place so managing the campaign is a breeze.
Mobile Optimization
Mobile optimization is a crucial consideration as many guests prefer to redeem their vouchers on their smartphones or tablets. We pay close attention to mobile design, ensuring that guests can redeem vouchers from anywhere - their desktop computers, their cars, or even from a chair lift! We know that guests have busy lives and want responsiveness in their buying process and our careful design enables just that.
Outstanding guest experience
The most important element of voucher redemption, however, is guest satisfaction. Our voucher redemption module offers guests options for entering their voucher ID either through a banner on top of the site or in the cart checkout. Vouchers can be issued to guest online accounts to redeem, print, or email to a friend directly from their webshop account. With all of the options, guests are assured a satisfying experience and your resort receives a positive association with your brand.
With Aspenware Commerce, we can help you implement virtually any marketing strategy you want to put into play, including complex voucher offerings. Contact us today for a demo to learn how we can help you take your marketing strategy to the next level.